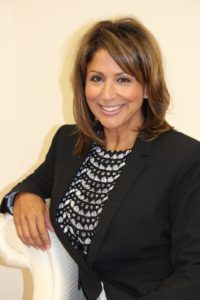 New York, January 5, 2018 – – Student Sponsor Partners (SSP), a non-profit organization focused on educating at-risk New York City students, is pleased to announce the selection of Debra Vizzi as its new Executive Director. Ms. Vizzi, who was selected after an extensive search, will join SSP in March 2018.
Debra brings a wealth of experience to her new role. She currently serves as the President and Chief Executive Officer of the Community FoodBank of New Jersey, the largest anti-hunger and anti-poverty organization in the state. Debra Vizzi is an award-winning innovator and an accomplished leader who has a personal connection to Student Sponsor Partners: She was one of the first students to receive a scholarship to attend a private high school from SSP's founder, Peter Flanigan.
"Debra is a testament to how a quality education can directly determine the trajectory of one's life. Her success is our success. Debra has dedicated her life to improving the lives of the vulnerable and under-served. Her experience, knowledge of the organization, and vision for the future made her the ideal choice to accelerate SSP's mission of educating at-risk New York City students," stated Christopher Niehaus, Chairman of the Board of Directors.
"This appointment is a dream realized, and deeply personal," stated Debra Vizzi. "Our founder Peter Flanigan helped to shape my future by providing the tuition for my high school education. Joining Student Sponsor Partners as Executive Director is a testament to the impact this organization has had on my life, and countless others since its inception."
"I am delighted to be joining a cadre of deeply committed professionals who perform extraordinary work on behalf of the countless students that we educate and advise.  I look forward to continuing Peter Flanigan's vision to create a movement for educational freedom. In his remarks at the Manhattan Institute in 2004, Peter aptly describes my sentiments today 'I could not help wondering how I came to be included in such illustrious company.'"
Debra received her Master of Social Work from Rutgers University and her bachelor's degree from Buffalo State. Debra is a licensed Clinical Social Worker. A frequent speaker on trends and key issues for the charitable community, Debra has appeared in national print and electronic media outlets in the discussion of poverty, education, and child welfare.
SSP's mission is to provide New York City high school students who live in poverty and face significant barriers to academic success, with a college preparatory non-public high school education. Founded in 1986, SSP has financed and guided over 7,000 low-income students through high school by providing each student with a sponsor to fund the high school tuition, a mentor to provide support and guidance and a dedicated staff to provide additional care and support. 97% of students in SSP's graduating Class of 2017 were accepted to college and offered over $24 million in financial aid. This success is on trend with SSP's preceding Classes of 2016 and 2015, who achieved 97% and 96% college acceptance rates respectively.
SSP is focused on ensuring that our students graduate high school and become productive members of society. The program prepares them to attend and to complete college. Nationally, only 9% of the lowest economic quartile students graduate from college. SSP students from the high school graduation classes of 2006-2013 have graduated at a 45% rate with an additional 13% still enrolled for a 5-6x higher graduation rate than the national average for the most vulnerable cohort.
To learn more about Student Sponsor Partners, please visit us at www.sspnyc.org.
Follow us on Twitter – https://twitter.com/SSPNewYork
Like us on Facebook – https://www.facebook.com/studentsponsorpartners
###