Partnering with Students to Reach Their Highest Potential
WHO WE ARE
Our Model for Success
For over 30 years, Student Sponsor Partners (SSP)' uniquely integrated program has provided over 7,000 NYC low-income students with a quality private high school education. All SSP students are paired with sponsors, who provide financial support, and mentors, who offer one-to-one mentoring, thus making a meaningful impact on their lives.

Who We Serve
SSP is dedicated to providing NYC high school students, who live in poverty and face significant barriers to academic success, with a college preparatory, non-public high school education. SSP students come from low-income households, live in underserved NYC communities, and are at risk of falling through the cracks.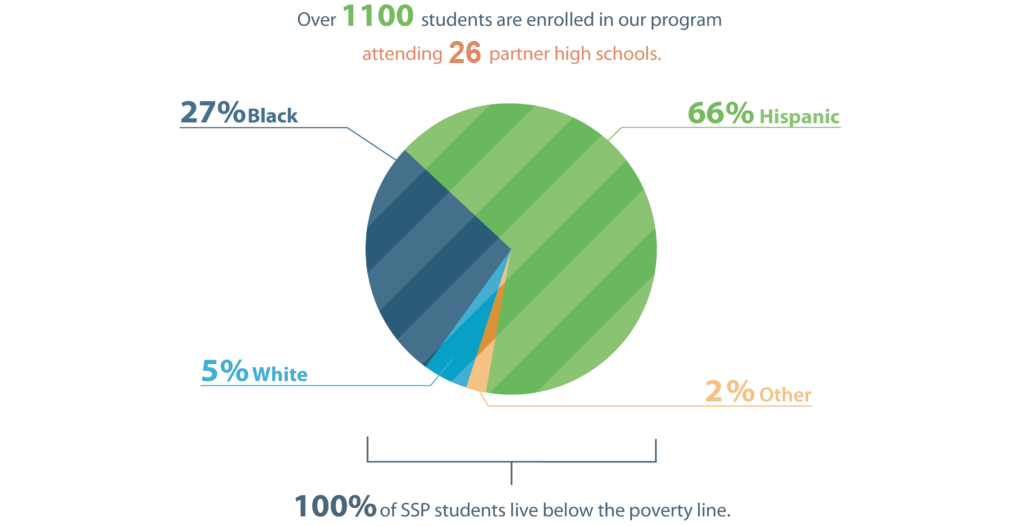 Our Impact

Success Stories
John, 10th grade
I really appreciate SSP. Without SSP, I would not be able to attend this amazing school. I love this school because the teachers and students are so kind and supportive. I feel I am learning a lot and will be prepared to excel in college and beyond.
Kalon, 12th grade
I like my mentor. He has been with me since I was a high school freshman and has been a great support to me. My grades are great and I am looking forward to applying to college.
Keisha, 9th grade
I really like SSP, and I like my mentor too. I have always wanted to attend this school, I like the way the teachers treat the students.  They have a strong preforming arts program which I love. I am confident that because of the excellent education I am receiving, my future is bright! 
Lillian, 12th grade
SSP is the best decision I've ever made in my life. During my 4 years of high school I have always felt supported by SSP. During my senior year, SSP provided me with important college programs that have helped prepare me for college.
Alumni Profile
: Chris Miles
Rice High School '99 – Fairfield University '03
My zone high school had a graduation rate of 3%. My mom passed away my sophomore year of high school. Without SSP, there was no way I could have graduated from high school, much less gone to college. When my mom passed away, there was no one to go to my parent-teacher conferences. My sponsor learned that my grades were slipping, and he sat down with each of my teachers, who were making excuses for me. Everyone, but my sponsor, was making excuses for me. He believed I could get the job done.The confidence he had in me instilled the belief that I could succeed at anything I tried to attain. For 10 years, I've worked as a sportscaster. I now work for NBC News4 and for CSN Mid-Atlantic SportsNet Central in Washington DC, covering the Washington Wizards pregame and postgame, and I host a nightly show. I've covered the Super Bowl, Final 4, and NBA Championships. When I was a little kid, I never thought any of these things were possible, but my sponsor really opened my eyes to what I could achieve with hard work. His belief in me made my dreams possible. SSP and my sponsor came into my life at a critical time and really transformed my future. SSP is so important for kids who are experiencing challenges. To have the support of someone who cares is invaluable. I give back to SSP now because I want kids like me to know that there are no excuses; they can be the best person that they can be. Your future is what you determine it to be, not what other people determine it to be.
Partner Schools
Our partner schools are academically challenging and nurturing environments that enable SSP students to reach their full potential through small class sizes, individualized attention, and support from our SSP School Coordinators and SSP staff.
Prospective SSP students and their parents or guardians should learn more about the partner schools while applying for the program.
If you would like to learn more about any of SSP's partner schools, please contact the school to set up a tour or a 'shadow day' with a current student.
History
In 1986, Peter Flanigan, investment banker and former political advisor, founded Student Sponsor Partners (SSP) to address the high school dropout crisis in New York City. He wanted to provide students from low-income backgrounds with the opportunity to receive a quality education attending privately funded high schools. Students were paired with sponsors and mentors who offered financial support and one-to-one mentoring. SSP launched with 45 students, supported by 45 financial sponsors and mentors, starting the 9th grade at Cardinal Hayes High School and Cathedral High School. Today, over 1000 SSP students are supported by a sponsor and a mentor and attend 23 partner high schools located in the Bronx, Brooklyn, Manhattan, and Queens.
Financials
SSP is incredibly grateful for each and every donation we receive. Thank you sponsors, mentors, and donors. Your kind and generous gifts and donations support thousands of SSP students to reach their highest potential.
To download a copy of SSP's most recent IRS Form 990, click here.

To download a copy of SSP's Annual Reports and Financial Statements, click on the year below: