Overview
PARTNERING WITH STUDENTS TO REACH THEIR HIGHEST POTENTIAL
Student Sponsor Partners (SSP) provides tuition support to eligible low-income students to attend a college preparatory, non-public high school in New York City. Our uniquely integrated approach provides every student with a sponsor who provides financial support for tuition and a mentor who provides one-to-one guidance and motivation to ensure that their student graduates high school and achieves post secondary success.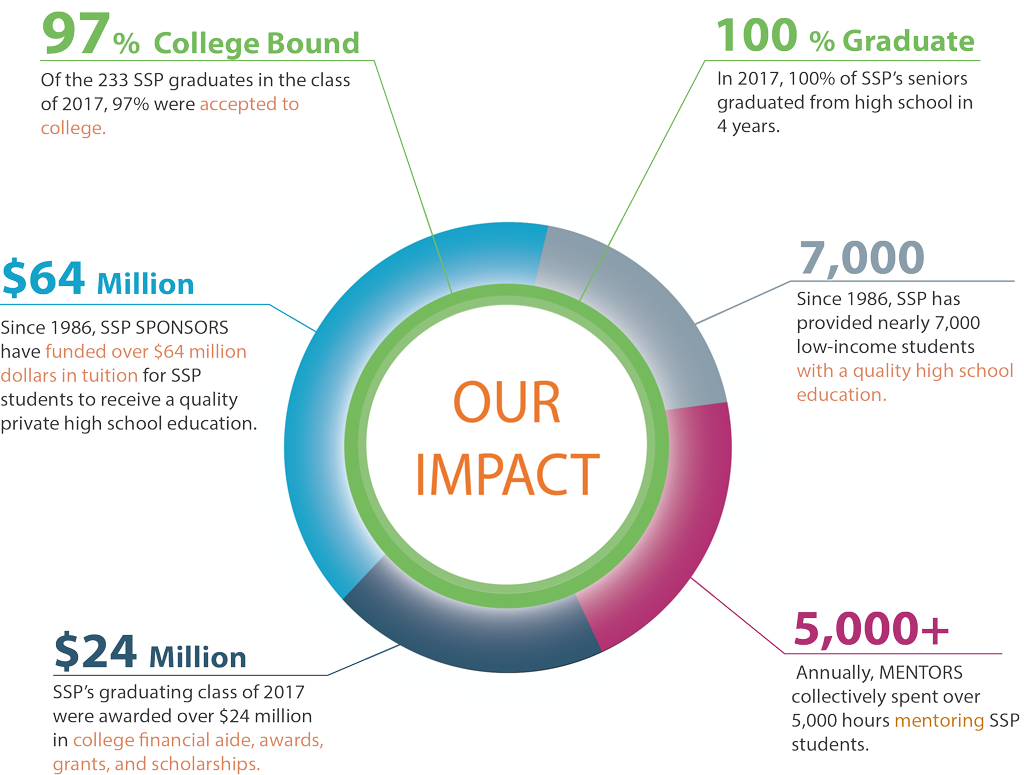 SSP Partner Schools
Currently, SSP has over 1,100 students attending 26 private partner schools in Manhattan, Bronx, Queens and Brooklyn, New York. Click here to find the closest SSP School in your neighborhood.
Student Application
Thank you for your interest in SSP. Each year we accept about 300 qualified students to our program. To qualify and apply to the SSP Program click the Student Application button below. Please note: No paper applications will be accepted.
You can also access the application directly at www.mytads.com/fa/ssp. You will be asked to create a login and password.
Need Assistance?
If you have any questions or need help with the application process, please call 1-800-884-8237 between the hours of 8am – 8pm, Monday – Friday. Spanish-speaking customer service is available.
Important FAQ's

Student Profiles
SSP Students are committed to reaching their highest potential. An SSP Student is focused, open-minded, engaged, and committed to their educational success.
SSP students are three times more likely to graduate from high school than their peers from similar backgrounds in New York City public schools. Each year over 95% of our graduates are accepted into college compared to around 50% of their peers.

SSP Student Resource Center
Hello SSP students!  We are so proud of each and everyone of you.
The SSP Student Resource Center will provide you with information and online resources to help guide you through your high school years.
HOW TO BE A SUCCESSFUL SSP STUDENT FAQ'S
COLLEGE AND CAREER SUCCESS PROGRAM
Did you know:
Earning a college degree is the most powerful instrument of economic mobility for low-income Americans (NY Times).
Only 1 in 10 people from low-income families will have a college degree by age 25 (Russell Sage Foundation).
The share of jobs that require a post-secondary education has doubled over the last 40 years (Georgetown University Center on Education and the Workforce).
Given the demand of the workplace for post- secondary education and training, SSP offers a College and Career Program supplementary to each high school program. We believe it is never too early to begin preparing for college and a career.
SSP's College and Career Program offers preparatory resources and tools to help SSP students prepare for college and/or skills based career programs.
PMF Scholarship
Thanks to the generous funding from The Kovner Foundation, SSP launched the Peter M. Flanigan Scholarship in 2015. From 2015 to 2018, SSP identified high school SSP students who have an outstanding cumulative GPA of 90 or above and an SAT score of at least 1450 (based on 2015 exam scoring), and invited them to apply for the scholarship. Three to four students were awarded the Peter M. Flanigan Scholarship and received scholarship funding of up to $10,000 per year for four years of college.
The 2018 PMF Scholarship candidates were identified in August 2017. We identified thirty candidates and due to the high caliber of finalists and a very competitive application process, three students were selected as the
2018 Peter M. Flanigan Scholars:
Alemtsehay Getahun, St. Joseph High School
Alex Ruiz Jr., Cardinal Hayes High School
Isaac Zarzuela, Monsignor McClancy High School
Past Winners

2017:
Anthony Vasquez, All Hallows High School graduate, attending SUNY University at Albany
Aissatou Toure, St. Jean Baptiste High School graduate, attending NYU
Fanta Soumahoro, St. Jean Baptiste High School graduate, attending St. John's University
2016:
Keren Agurcia, Aquinas High School
Emely Camilo Cuello, St. Raymond Academy
Victor Gautreaux Del Villar, Cardinal Hayes High School
Robert Payano, All Hallows High School
2015:
Albert Peraza, Mount Saint Michael Academy graduate, attending NYU
Ashley Gonzalez-Melo, St. Raymond Academy graduate, attending SUNY Binghamton University
Renai Foster, The Mary Louis Academy graduate, attending Amherst College
SSP Schools Team Staff and School Coordinators
College and Career Success Program 
Jasmine Alfonseca,  Senior Manager, College and Career Success Program
Contact: 646-783-2766, jalfonseca@sspnyc.org
William Connor, College Success Relationship Manager, Contact: TBD
Kadacia Cooper, College and Career Success Program Fellow, Contact: 646-7832710, kcooper@sspnyc.org
To contact the SSP Coordinator at your school, please click on the school below: